On rigged quizes.
Okay, time for another quizie-poo.
I'm not so sure I am comforatable with my result. I'm happy with it, but, I'm not so sure I merit the result. But, hey, it's a scientific quiz, so it can't be wrong. Right?
Take the quiz:
"WHAT RELIGION BESTS SUITS YOU?"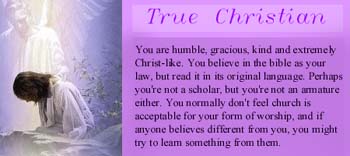 True Christian
You are humble, gracious, kind and extremely Christ-like. You believe in the bible as your law, but read it in its original language. Perhaps you're not a scholar, but you're not an armature either. You normally don't feel church is acceptable for your form of worship, and if anyone believes different from you, you might try to learn something from them.